CAPITALS




CANUCKS



AT




Time
Sat. 7:00 PM PST

TV
CBC

Season Series
0 - 0

Last Meeting

4-2

Canucks

(Jan.14/11)
The Enemy
Japers' Rink
Scoring Leaders

D. Sedin

: 4-8-12 Backstrom: 2-8-10

| | | |
| --- | --- | --- |
| Capitals | Category | Canucks |
| 7-1-0 | Season Record | 4-5-1 |
| 2nd | Conference Position | 14th |
| Lost 1 | Streak | Lost 2 |
| 2-1-0 | < Road Record / Home Record > | 2-2-1 |
| - | Last 10 | - |
| +15 | Goals For / Against +/- | -5 |
| 3.75 (1) | Goals Per Game | 2.40 (20) |
| 2.00 (4) | Goals Against Per Game | 2.80 (22) |
| 2.22 (1) | 5 On 5 GF/GA | 0.75 (25) |
| 25.8 (3) | Power Play % | 19.2 (10) |
| 80.0 (20) | Penalty Kill % | 86.0 (11) |
| 75.0 | Winning % When Scoring First | 100 |
| 100 | Winning % When Leading After 1 | 100 |
| 100 | Winning % When Leading After 2 | 100 |
| 49.0 (20) | Faceoffs % | 52.2 (5) |
| 9.4 (3) | PIM's Per Game Average | 13.5 (22)  |
| NHL.com | | |
The Canucks find themselves stone cold in the scoring department, facing a Washington team that hasn't had problems filling nets at all (until they lost 2-1 to the Oilers on Thursday night.) The Capitals could be a cure for the Canucks, should Vancouver win, or a scary-bad evening if they can't SCORE.
What is it now, 1 game in 9 that the Canucks have scored first? They actually won that game (over Nashville). I can dig how the coaching staff wants the defence to jump into the rush to try generating goals, but when they are getting caught up ice and goals are being scored against as a result, something has got to change. It's like having 4 Christian Ehrhoffs on the same team. The breakdowns have to stop. The meltdowns are painful to watch. Yet...the boys are only 1 game below 500 hockey. It feels like it's worse.
The offence needs to get dirty. They need to crash the net harder. This perimeter play is just plain silly. The turnovers are getting old.
-The Capitals started Michal Neuvirth in their season opener and won. But Tomas Vokoun has played 7 straight games for the Caps since (6-1). Maybe it's time they started Neuvirth again, what do ya think? EDIT: Scratch that. Vokoun is expected to start again as Bruce Boudreau rides the hot goalie.
-If I heard Dan Hamhuis correctly on Team 1040 today, he will be re-united with Kevin Bieksa.
-The much-maligned Roberto Luongo will start for the Canucks. Is that scary? Nah. The way the team has been playing...am I scared the Caps are going to embarass us on Hockey Night In Canada?  Nah.
Scary could be Ryan Kesler and david Booth getting haircuts together. BTW, Booth will be the guest in HNIC's After Hours program.
Scary would be being married to this:
Scary would be going outside to fill the dog food dish only to discover your best friend looks like this:
Scary would be crashing your car in the middle of nowhere in Texas and when you come to the first face you see is this:
Scary would be being stuck alone in a room with this: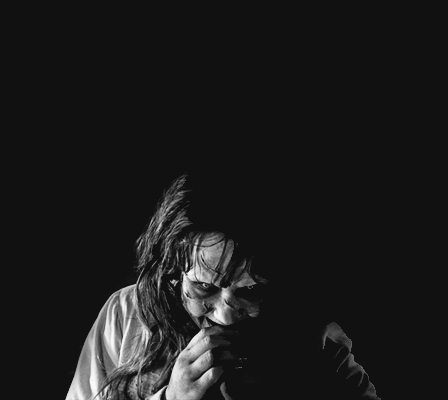 You know, if movies were real and stuff...
But Luongo starting against the Capitals? Not scary. I have a good feeling about this one. I have a good feeling about the entire Canucks team effort. A big win here against a team as good as Washington can be just what the doctor ordered for our inconsistent / struggling bunch.
I'm a little early on the Halloween theme here, but this is the last game before that festive day. If your up for it, give us your top 5 favorite horror/thriller flicks along with your score prediction.
Here are mine:
5. Texas Chainsaw Massacre: The Beginning
4. Cape Fear
3. The Shining
2. 28 Days Later
1. The Exorcist
Honorable mentions: Seven, Silence Of The Lambs, Cujo, The Mist (best ending ever), Misery, Zombieland, Blair Witch Project, The Hills Have Eyes, Jacob's Ladder. I know I am missing a few..
Score Prediction: 4-3 Canucks, with Daniel bagging the winner in OT.
COCONUTS!