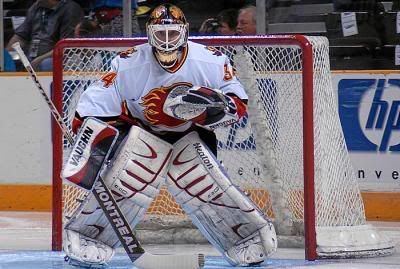 It's about time. I have been lying in wait, silently hoping the Calgary Flames would find a spark, silently hoping Darryl Sutter was going to be as patient as I was and not bench his #1 goaltender, and silently hoping it would be sooner than later. I chose Miikka Kipursoff first overall in one hockey pool, and in a box picks pool I also took him when not many other people did. I was beginning to second guess my decision, and my 'game' all together. I'm sure many people thought the win over St. Louis was a shot in the dark, I never really gave it a second thought, anybody who's anybody knows you should be able to beat the Blues...(hehe, no pun intended and nothing against Vancouver). You cannot deny Calgary the win against the Dallas Stars, and even more so, the shutout against The Anaheim Ducks.
No offense to Ducks fans, and no offense to you non-believers out there, but Anaheim losing to Calgary is like Gerber of the Ottawa Senators giving up a 3 goal lead only to lose the game. It was the same team that just beat Vancouver 6-0. It leaves me scratching my head wondering what in the hell just happened. Can somebody pinch me please? Yes, it is real, yes, it did happen, and guess what....The Flames are back.
Now it's onward to face the Canucks, who are presumably still licking their wounds and scratching their heads as well. Does anyone want to wager on that game? It should be a good one. Vancouver will be looking for redemption and now that Calgary is well warmed up, it will be a hard fought battle for the victory.