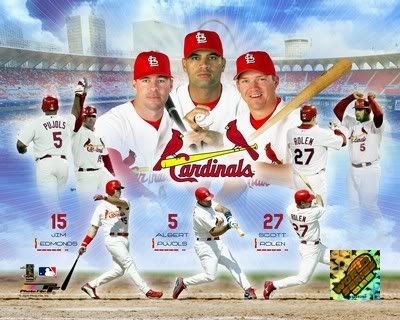 Everyone and their dog in the state of Missouri has had to be on the edge of there seats since about two weeks ago. I grew up about 1 hr 30 minutes from the stadium, and have been to a few games here and there, the most recent being their second to last game of this season, while we were visiting my family. Their new stadium rocks, and we had tons of fun, I think Hodge even enjoyed himself. I cannot even watch St. Louis Cardinals on TV since they made the playoffs; they make me that nervous. Now that they are in the World Series, and leading 1 game to 0, I'd say that's reason to party though.....for everyone in the state of Missouri. I doubt all these hockey fans here in Canada will even understand why I've been running around pulling my hair out and checking my blood pressure every 3 hours over such a silly game. I just can't help myself, baseball has always been my game, and St. Louis has always been my team. I remember Boston stomping all over them, who could forget, in the World Series a few years ago. The Cardinals just had waltzed right through the season into the World Series. They had a week to rest; translation; a week to mess with your psyche and uncompose yourself. They were swept in 4 games. Ouch, I hid under a rock for a month and wept. This time around, they limped in...barely limped in, and now it's Detroit who's had "that week" after blanking the Yankees, I'm still not sure if they know what happened to themselves, and then beating the Athletics. Give the Tigers some love too though, 3 years ago, they could barely call themselves a team, being the worst in baseball.
So I guess this is me, saying GO CARDINALS!!! This is their time. Hommahommahomma....
Oh yeah, and if it wasn't for the Cardinals winning last night, I'm not so sure the Blues would have pulled it out, beating Chicago 4-3. All of that positive energy in St. Louis, how could they not? I know the Blues have a ways to go before they are a playoff team again, but I think they are going to be alright. The city must be buzzing right now!