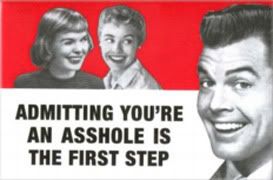 Wow, what a weird turn of events in Philly. Calling the Hitchcock firing was about as insightful as predicting Forsberg to get injured, but who would have thunk Bobby Clarke was going to admit being an idiot and actually take the blame for a dismal tenure in Philly.
Amazing how looking in the mirror every morning can make even the bizarre nutjobs see the light.
All we need now is Bob to admit he was being a complete dickhead with that kesler offer and fork over a million bucks to the Canucks and I'll start the "lets forgive Bob" campaign.