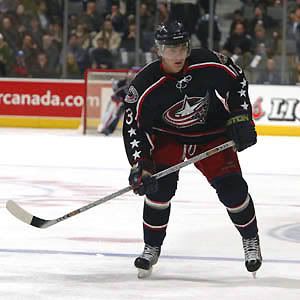 Unless he decides to defect back to Russia, which is just a skip, hop, and a jump away. He has been signed to a three year, $7.5 million contract. He's excited to remain in Columbus, and had this to say,
''I am very happy to remain a Blue Jacket and want to thank the organization for their commitment and support, I am excited about our team and look forward to joining my teammates in Columbus as soon as possible.''

The almost 22 year old right winger has yet to play a full season in his 2 year career. Him, and newly acquired to take his spot Anson Carter, will probably be vying to play on the top line, which is to consist of Rick Nash and Sergei Fedorov, who remains injured.

He's probably a good pick in most regular hockey pools, as long as you don't count +/- in the mix. Hell, I even went and picked him up before reporting this story. Columbus has got game this year!!!!