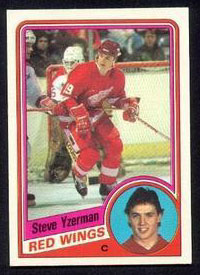 Yzerman's 1984-85 OpeeChee Rookie Card

According to
Sportsnet
, Steve Yzerman has found a job that will be alot easier on his knees (unless Detroit management carry hockey sticks.) The team has confirmed today that Stevie Y is the new Vice President of the Red Wings. Yzerman will work with the management team of senior VP Jim Devellano, general manager Ken Holland and assistant general manager Jim Nill.
Owner Mike Illitch said today:
"After retiring as the longest serving captain in NHL history and the on-ice leader of our franchise for 23 years, it is only fitting that he join our management team in a meaningful position. I'm confident Steve will bring the same passion and dedication he displayed on the ice to our management team and help us make the Detroit Red Wings the best we can be."
Yeah, no shit. Stevie Y is a class act to have in their organization.