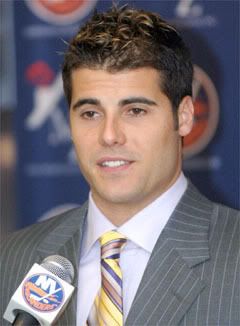 I know it's only pre-season, and it's only one game, but suddenly, that 15 year contract doesn't look like it was such a bright idea after all. Not only did the star goalie give up 3 goals on a measley 14 shots in 33 minutes of play, but he also tallied 6 minutes of pentalties in their 5-1 loss to Boston. Dipietro was replaced by veteran goaltender, Mike Dunham after allowing the 3rd goal.
His excuse when talking to reporters after the game? ''This game doesn't count - the big game is Oct. 5 when the season starts, we just have to make sure we're ready for that night.'' I thought all games were suppose to be taken seriously, but maybe that's just me being naive.
Of course, head coach, Ted Nolan also put in his 2 cents, defending Dipietro, saying ''He hasn't played in five months, there's probably a little rust there, we'll probably have to play a lot in exhibition to help him shake off that rust.'' So I guess we should be forgiving for a few goals, but their is no excuse for the penalties, one of which was called for unsportsmanlike conduct after arguing a call.
I'm thinking Dick Pound should focus his drug testing escapade on owner, Charles Wang; the guy has dug himself a hell of a hole, and he's dragging the team down with him. Good job Charles, maybe you should let Dipietro be the GM and demote Garth Snow back to goaltending.