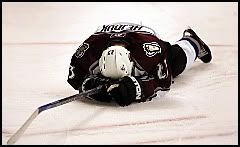 We're only a week into the pre-season, with the regular season being almost 2 weeks away, key injuries continue to pile up, with the latest being Ottawa D-man, Joe Corvo. Corvo broke his right foot in the closing minutes of the Senators loss to Buffalo on Friday. He is expected to fill the gaping void Zdeno Chara left when he headed for Boston. He blocked a shot late in the third and left the ice immediatley. He will be out indefintely. This is a huge blow to Tapeleg of
Jersey's and Hockey Love
, who has Corvo as well as Zdeno Chara, who may be healthy enough to return to the Bruins line-up when the regular season begins. Chara, who took a puck off the foot, only ended up with a bad bruise.
This brings me to Jaromir Jagr, who had surgery to repair a dislocated shoulder four months ago. For precautionary measures, he has not been cleared by doctors and is doubtful for the regular season opener.
Then there is Malkin, and anybody who is anybody seen what happened to him. Let's hope his dislocated shoulder is less of a problem than Jagr's. He is listed as day to day, and probably won't make his season opener either.
Todd Bertuzzi has bruised ribs but is expected to return soon. Like we care!
Paul Kariya has a hamstring injury, but it isn't deemed serious, as he's been skating in practice.
To Hodge's relief, Daniel Briere's minor hip injury is just that. He was expected to return to practice yesterday.
Tomas Kaberle, Kim Johnsson, and Daniel Alfredsson are both nursing minor groin injuries.
Rhett Warrener, Calgary top D-man, was sidelined again yesterday with a knee injury. He will have an MRI and likely will miss the season opener.
Danny Markov suffered a strained left MCL and will have an MRI today. The team is optimistic this is just a slight injury.
Jay McKee is likely to miss the season opener due to a strained MCL.
UPDATE:
Chicago Blackhawks forward Tuomo Ruutu will be sidelined at least four weeks after suffering a grade II sprain of his left knee Friday night against Columbus. He was sidelined most of last year with back problems.