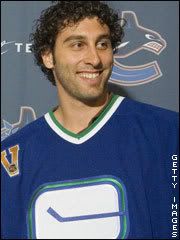 Roberto Luongo will make his highly anticipated debut against San Jose tonight. The Sharks got spanked by the Ducks last night, and I'm guessing they may not want to lose two preseason games in a row.
I haven't been able to find the official Canucks starting lineup, but I know Naslund and the Sedins will be playing. Rumours have the Canucks contemplating Naslund playing with the Sedins on the top line this year. I'd be a little concerned with that idea, as it leaves gaps in the second line you could drive a truck thru.
In the line up for the Sharks will be Thornton, Marleau and Cheechoo, so it should be a good test on Luongo and Wade Flaherty, who's coming off a 1/2 game shutout in Calgary.