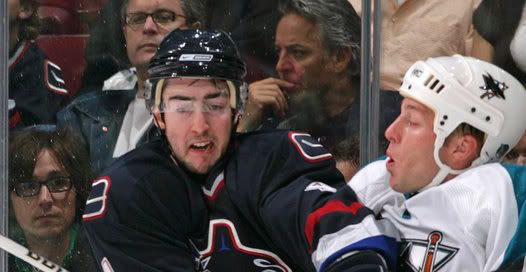 Up and coming defensive star Luc Bourdon running over Sharks Mark Smith couldn't even get a rise out of the home team crowd it seems in this photo

(courtesy of Yahoo)

.

Other than Roberto Luongo coming up huge on a several occasions during the game, it wasn't worth watching or in my case, listening to on the radio.



Exerpt from TSN.ca


Even for an exhibition, the game lacked emotion and energy. There seemed to be a lot of professional courtesy extended as few hits were dished out.

With the Canucks roster still to be determined, I'm suprised with the lack of intensity from the players still on the bubble and more importantly, players like Cooke and Kesler who are supposed to be fighting for a spot on the top two lines. Are they avoiding the possibility of an injury before the season starts or trying to get traded with lackluster performances??

I'm hoping we see an over all better showing against the Oilers, otherwise my spider senses tell me the naysayers might me on to something.