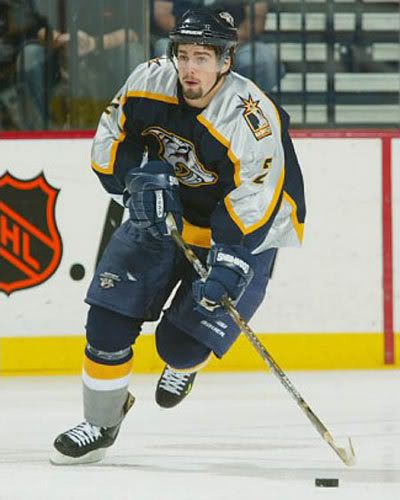 As reported by TSN, the Nashville Predators and Danny Hamhuis, have agreed to a 4 year, $8 million contract. The Smithers, BC native, as WFS has reported many times, failed to file for arbitration in the off season, prompting him to return home and keep his fingers crossed for something to happen. The 23 year old, 1st round draft pick (12 overall) scored 7 goals and 31 assists in 82 games last season.
He was one of two Preds to play in all 82 games last year, with Paul Kariya being the other.
He led the team in takeaways, with 50, ranked second in hits with 114, and blocked 100 shots.
Of his 7 goals, 5 of them were tallied in the final 18 games of last season.
Local residents had hopes of being able to watch the star play along with our local hockey team, the Smithers Steelheads, as a few reported seeing him skating with them only last week. It's also been reported that he stuck out like a sore thumb, a player of his caliber easily making even the best players doubt their own ability.