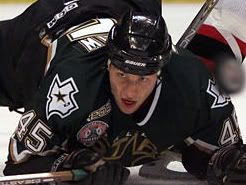 For 6 more years to be precise. The 27 year old left-winger has scored a 4.1 million dollar a year contract extension beginning with the 2007-2008 season. Morrow, who has played his entire career with the Stars had this to say "I wanted to stay in Dallas all along and now I can concentrate completely on the ice for this upcoming season, I couldn't be happier and am extremely excited about continuing my career with the Stars for many years."
Morrow has been a consistant 20 goal scorer for the past few years, and is the only player in the NHL to do so and serve more than 125 penalty minutes. Morrow is a reliable team player and is a pretty safe middle round pick if you are entering a hockey pool. He has yet to record a minus rating in a season.
With faces like Marty Turco, Mike Modano, Sergei Zubov, Jussi Jokinen, and Eric Lindros, just to name a few, the Stars have a decent chance at making the playoffs yet again this year in my opinion.