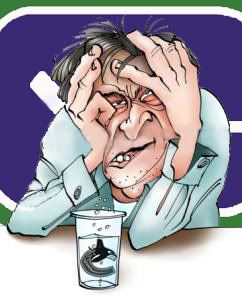 Ouch, the second lopsided loss in as many nights for the Canucks. The Ducks showed up for the contest obviously ready to play with a decent number of their star calibre players. The Canucks, on the other hand, brought parts of their top line, none of their second, and two lines of Manitoba Moose hopefuls.
There were enough penalties and fights to make a junior hockey game look tame. It gave a whole new meaning to "fighting for a spot on the team."
Highlights included
: 2006 entry draft pick Michael Grabner getting his first big league goal and Kevin Bieksa thrashing some Duck property after getting his ass handed to him by Anaheim's Travis Moen.
Lowlights included
: Luongo getting beat 23 seconds into the game on his first shot on net and Ducks out shooting the Canucks 28-8 in the first two periods.
I can just hope the Canucks can ice a half assed resemblance of their complete lineup on Sunday for the rematch against the Ducks, and Anaheim decides to bring their 18 and under squad. I know the preseason is being used by head coach Alain Vigneault to sort out a number of roster spots but have to ask if losing all their preseason games can do anything positive.
I can already hear Zanstorm, with his shitty "I told you so's" but as a die hard Nuk fan, it's nothing I haven't heard before.