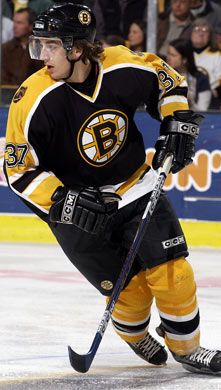 Joe who??

The Bruins improved their preseason record to 4-0 today, beating the Islanders 3-2. The Bruins had whooped the Isles 5-1 last night as well to sweep them in their games on Canada's east coast. Hannu Toivonen was sharp for the B's in this one stopping 23 of 25 shots. The Bruins got goals from Tyler Redenbach, Glenn Murray, and Jonathan Sigalet. Islander goals came from....it doesn't matter where the Islander goals came from!
I was always a complete supporter of the Thornton trade last season because I thought it worked for both teams. It looks as though we will see that even more in Boston this year, as Marco Sturm, Brad Stuart, and Wayne Primeau will pay huge dividends.
The best part of the deal for Boston is how the top line of Bergeron, Sturm and Boyes is clicking so well and looks to become a dominant force this year. Wayne Primeau is a gutsy checker who can chip in, and Brad Stuart will be a steady force on D and quarterback the powerplay as well.
Expect the Bruins to leave the top line intact, and the second line will be occupied by Glenn Murray, Marc Savard and perhaps Phil Kessel or PJ Axelsson.
For the first time in a while, the Bruins have a team with depth, and could very well make Bruin fans forget about Joe Thornton. At least for now.