Hodge and I live in a beautiful area in
Northern BC
called
Smithers
. Pictured above is the picturesque Hudson Bay Mountain. In between the two peaks is Glacier Gulch, which is receding a bit quicker in recent years because of the warmer winters. The ice melt coming off the glacier and peaks around it runs quickly down the mountain and forms two majestic waterfalls called
Twin Falls
.
This is me backcountry skiing on top of the prairies, just above our ski hill. It was in June, after the ski hill had closed for the season. Nice views. This is where the
Disney movie 'Eight Below'
was filmed. Yes, we are proud of that!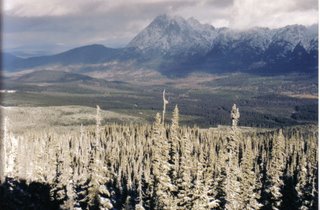 The is a range northwest of Smithers called The Nipples and the Rocky Ridges. The picture is taken from the abandoned Hankin fire lookout. Nice place to stay overnight and party.
This is probably the best hike in the valley. It's an area near
Hazelton
called Blue Lakes. You have to see this area to believe just how majestic it really is. Here I am standing at the top of a waterfall which flows into the lower lake. The trail ascends higher from here to the top lake, where you can camp.
For more pics of this area, visit my friend Temujin's site, West Coast Chaos, and view his Smithers pics
here
. Thanks for the idea, man!