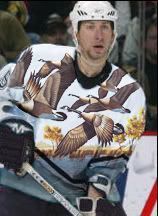 The NHL team will take the ice next season as the Anaheim Ducks, wearing new uniforms with different colours and a redesigned logo. The makeover cuts the team's final remaining ties to former owner The Walt Disney Co., which sold the Ducks last year to Orange County residents Henry and Susan Samueli.
The team kept Ducks in its nickname after a poll of season ticketholders.
"I really love the new look and thank the Samuelis for giving me a chance to have input on the design," winger Teemu Selanne said.
Sorry couldn't resist... check out the link for a look at the new Duck's
logo