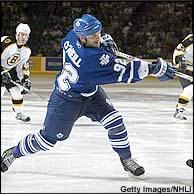 I originally decided to be a contributer to this blog because someone had to keep Zanstorm from slanting the truth with his skewed blue and white beliefs. Until meeting Zanstorm, I was just another westerner who disliked the Leafs and Leaf fans for no other reason than generally disliking everyone I've met from Ontario.
One thing I'm noticing quickly, is how similar our plight as fans truly is. I hope the similarities end this year though, as I don't see the Leafs making the playoffs again this season.
With this in mind, I'm starting a weekly article on players I feel need a bounce back year to enable our respective teams to make the playoffs this year.
Last year, I thought
Jeff ONeill
was really going to prove something after a poor season in Carolina, the season before. I even bet Zanstorm he was going to hit the 70 point mark (oops, still owe $10 bucks). Had Jeff performed to his potential and won me that bet, Zanstorm was going to eat the pocket off of his jacket which would have been priceless. I'm not sure what it's going to take to get a fire lit under Jeff's ass this year, hopefully Paul Maurice can get him going again!!