Time
Thursday, 4:30 PST

TV
Sportsnet Pacific

Season Series
1-0 Canadiens

Last Meeting


4-1 Canadiens Oct.12.13



The Enemy
Eyes On The Prize
Scoring Leaders
D. Sedin: 13-27-40
Subban: 8-30-38

Chris Higgins: (Undisclosed) Set To Return Thursday http://t.co/YQ0HNhTcTp

— Eric (@Eric_ProFSL) February 6, 2014
CANUCKS
CATEGORY
HABS
27-22-9
SEASON RECORD
30-21-6
63
POINTS
66
8th
CONFERENCE POSITION
4th
LOST 5
STREAK
WON 1

3-7-0
LAST 10
4-5-1
13-13-4
ROAD RECORD / HOME RECORD
16-10-4
-9
GOALS FOR / AGAINST DIFF.
E
0.98 (17)
5 ON 5 GF / GA DIFF.
0.85 (25)
13.4 (29)
POWERPLAY %
18.8 (15)
85.0 (4)
PENALTY KILL %
86.5 (3)
Montreal has beaten the Canucks 2 straight, both games by a score of 4-1. The Canucks last beat the Habs 4-3 in a shootout in early December of 2011.
If John Tortorella does start Roberto Luongo in his hometown, it will be a battle of the starting goalies for Team Canada. That is a pleasant little sideshow, even though we know it's Luongo's job to lose. Shut up, haters.
More importantly, this is a game the Canucks need to win. Only the Habs and Leafs remain before the Olympic break. The Western Conference Standings look like this: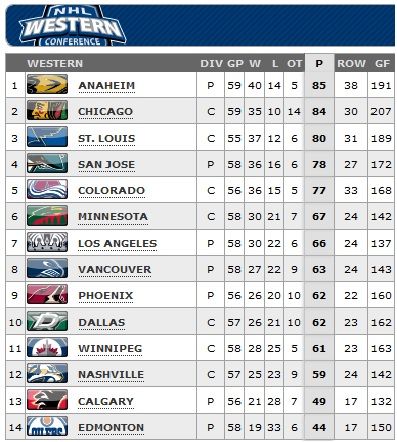 Oooo, she's getting tight now, hey? I am pretty sure that if the Canucks lose their final 2 games in regulation they will be sitting below 8th spot during the break.
I saw some positives against Boston. I didn't think a win was possible, really, but I thought the Canucks looked better defensively. They will need to continue that trend. They are not going to score a lot of goals with this roster, we know that. So shore up that defence and make it air-tight. Who cares if we are missing Bieksa or Hamhuis? I think Yann Sauve, Frank Corrado and new-guy Raphael Diaz look good. You don't need a bunch of high-profile guys on your blue line. The Canucks look good on D. Torts said:
"I'm not interested in moral victories and all that. But as a coach I need something to hang my hat on. As a group, I see improvement in our structure."
It's up front that the problem remains. Rinse and repeat.
Funny, because that's how they are playing this season:
@VanCanucks nothing says sochi quite like pic.twitter.com/qUtXzusZsK

— Gráinne (@wholegrainne) February 6, 2014
Sure, Hank is hurting and he's being heroic as a team captain. But he sucked before the injury too. How about he just stops playing until he's better? I worry of this being a long-term problem for him. And soon he plays for Sweden in the Olympics. We need him back healthy after the break.
Roberto Luongo took 100% of the blame for the loss in Boston. He's about 100% full of shit. Nice try at a deflection Lou. However, the real Slim Shady's stood up, finally.
Hank:
"The difference right now is we're not scoring, me and Danny. We have to step up and score goals. That's No. 1.
It's going to get us out of this drought and it's going to get the team going. If we're not going it's tough for them to make a difference. We have to be difference makers. We're not right now."
Dank:
"That's what we get paid to do, that's the bottom line. That's where I need to step up and score."
Dank was referring to his embarrassing breakaway attempt that could have breathed life into the team. But he failed. Speaking of failing..
YOU MADE MY SHITLIST
-Daniel: 0 goals and 5 assists in his last 17 games.
-Henrik Sedin. 1 assist in his last 8 games.
-Alex Burrows: 0 goals and 4 assists in 26 games this season.
-David Booth. 0 goals and 3 assists in his last 18 games.
-Dan Hamhuis. 0 goals and 9 assists in his last 38 games. Didn't play last game.
-Jannik Hansen. 1 goal and 1 assist in his last 17 games.
-Brad Richardson: 1 goal and 1 assist in his last 17 games. Has missed the last 2 games.
-Jason Garrison: 1 goal and 1 assist in his last 12. A SLUG OUT THERE.
HOT OR HEATING UP
-Raphael Diaz: 1 goal in 1 game as a Canuck!
-Zack Kassian: 1 goal and 3 assists in his last 9. Not bad kid. You get a shout-out.
-Ryan Stanton: 4 assists in his last 5 games. Nobody really says anything about him. He's that quiet killer kinda guy. Love it. We need to clone this guy.
KNOW THY ENEMY
Screw the Habs. I care not about them. Not one bit.
Just win, Canucks. End this madness.
These guys cannot remain THIS fruitless for much longer. If they have any testicular fortitude, they play their asses off these last 2 games.
Speaking of madness, the title of this game preview has been brought to you by Behemoth. Don't watch the video below. Don't.
I warned you. Does that kick ass or what? So awesome it gets censored to hell. I can't get that song or the imagery out of my head. It has been weeks now.
For the guys out there that want something more pleasant to look at, how about 22 pics of the hottest Russian female athletes? You're welcome.
This is what a Canucks win over the Habs looks like (December 8, 2011):
And now, an NHL Revealed moment that made all the ladies cry:
SCORE-PREDICTING WIZARDS UPDATE
We have a new leader! Congrats Bobby Canuck! And congrats to pagnificent who in her first stab at this, picked 3-1 Boston and got the 2 points.
Bobby Canuck: 17
Nathaniel Perlow: 16
Zanstorm: 16
Passive Voice: 15
marcness52: 14
Geordie Nuck: 13
gmonk33: 13
Coach Ryan: 12
FormerHab: 12
nucksandpucks: 11
Tengeresz: 11
Twitchy2010: 10
seedvt: 9
Azzy Mahmood: 8
itsahardknocklife: 8
vancitydan: 8
westy99: 8
BigPDog: 7
jwolf0: 7
Nathan k: 7
Nose_Face: 6
AK_nuk: 5
hookedoncanuck: 5
kiwinuck: 5
canuck89: 4
prairienucker: 4
Tim Burke: 4
ChuckinNux: 3
Puckhead1: 3
Brock: 2
bygfeete: 2
John Carroll: 2
pagnificent: 2
Smoboy41: 2
Vancouverguy: 2
Brobidus: 1
CombattlerV: 1
Kent Basky: 1
pheenster: 1
thesporteditor: 1
GO CANUCKS GO!