There are plenty of candidates this year for Conn Smythe, voted on by the professional hockey writer's association. Ryan Kesler, David Krecji, Henrik Sedin, Patrice Bergeron, Kevin Bieksa, Zdeno Chara are all names bandied about.
But this year, despite the sex appeal of choosing an all-american hero like Ryan Kesler or a member of Boston's forward squad, I believe it should go to one of the goalies in this series. While Tim Thomas' credentials are obvious, the front runner, barring personal collapse and should the Canucks win the cup, should be Roberto Luongo.
Yes, yes, I am already hearing the cackling coming from the peanut gallery otherwise known as non-Canucks fans.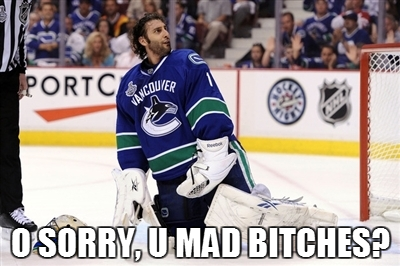 Since you don't actually care to watch our team except when it's beating you, I won't expect you to understand. But if you care to sit down, read carefully and actually open your mind, you might see I'm not entirely crazy thinking that, right now, Roberto Luongo, should be the front runner for the big prize.
I'm going to avoid stats for the most part. Roberto's stats, especially since the end of round 1, speak for themselves. Rather, I want to speak about his overall play, which if I had to describe in a simple phrase, it would be criminally underrated.
The Canucks have been on a phenomenal run since Game 7 of round 1, and really, don't delude yourself into thinking that Luongo has been along for the ride. Since then, he has faced an average of 32 shots per game, stopping a whopping 94% of those shots. Yes, you read right. Luongo's Sv% since Game 7 of Round 1 is 0.940. 
I hear the criticisms though. Firstly, that he isn't even the best goalie in the playoffs.  "Thomas makes harder saves" and has to deal with more scoring chances.
To this, I disagree. Yes, Tim Thomas faces more scoring chances and makes a lot more crazy saves. But that is comparison without context. Thomas' style not only facilitates saves which look amazing, it also makes easier saves look a lot more difficult and creates more scoring chances for the other team. In other words, Thomas is the creation of some of these subjective stats and it's somewhat odd that this is rarely discussed. Luongo, on the other hand, is playing an excellent game, minimizing scoring chances and either making difficult saves look easy, or playing positionally so well that he just doesn't have to make many difficult saves at all. Much has been made of Luongo's new focus and style, deeper in the crease, looking at the fundamentals, battling through screens and traffic. It's not as flashy and he doesn't make amazing saves quite at the frequency that Thomas does, or a younger Roberto Luongo in Florida used to. But that is because the technicals of Roberto's game are near-flawless right now. He's always in position. He's there when the puck gets there. On second and third chances when he's down, he's not out, because of the way he's played the puck. In other words, Roberto is just stopping the puck, and he's doing it because he's playing his position with amazing attention to fundamentals and detail.
After that, the obvious follow-up criticism is that it's easy to be a stud netminder with an all-world defence. Which is a good point and an obvious stumbling block. But lets look at goaltenders with all-world defences. Firstly, Boston has one (maybe few big names, but boy do they play a great system) and nobody suggests Tim Thomas is human because of it. Sure, he makes amazing saves, but as I said earlier, he is responsible for having to make some of those. Antti Niemi? He had an amazing D in front of him last year. But Niemi was wildly inconsistent and only played quite well for one series (against SJ) otherwise providing solid but unspectacular goaltending & numbers.
So that leads me to basically the concluding issue. Why Luongo over so many other candidates, especially those who are his teammates. In a word, consistency. Luongo has been so consistent for so long on this high flying team during its 11-3 run since game 7 of the first round. He has surrendered more than 2 goals in these playoffs a grand total of 3 games since game 6 of the first round. While the Canucks have battled with various unclassified injuries, differing opponents & styles and controversies, with different players thriving as different situations are thrown at the team, Roberto Luongo has quietly provided consistently top level goaltending every game, giving the Canucks a chance to win, no matter how the cards fall and what the opposition team brings to the table. He's making save after save, night after night, keeping the score low when the team needs him most and giving his team a chance to win every night. While maybe not the MVP for any one particular series, he has been consistently excellent every night and has made all the saves his needed him to make every game, the one constant in a playoffs filled with change.
Every night, Roberto Luongo takes the crease, calms himself during the anthems, then plays his heart out and gives one of his teammates the chance to be a hero, absorb the glory of scoring or setting a clutch game-winning goal, absorb the glory as the media fawns over their dominance. As of game 2 of the Stanley Cup finals, Roberto Luongo has been the engine which has quietly driven the success of the team closest to winning the Stanley Cup. If that isn't the definition of a playoff MVP, I have no idea what is.