BLUES




CANUCKS



AT




Time
Wed. 7:00 PM PST

TV
Sportsnet-Van

Season Series
0 - 0

Last Meeting

3-2

Canucks

(Feb.24/11)
The Enemy
St. Louis Game Time
Scoring Leaders

D. Sedin

: 4-8-12 Arnott: 3-4-7

| | | |
| --- | --- | --- |
| Blues | Category | Canucks |
| 4-4-0 | Season Record | 4-4-1 |
| 11th | Conference Position | 9th |
| Won 2 | Streak | Lost 1 |
| 2-3-0 | < Road Record / Home Record > | 3-1-1 |
| - | Last 10 | - |
| -2 | Goals For / Against +/- | -2 |
| 2.75 (13) | Goals Per Game | 2.67 (15) |
| 3.00 (23) | Goals Against Per Game | 2.78 (20) |
| 1.14 (9) | 5 On 5 GF/GA | 0.88 (20) |
| 7.40 (30) | Power Play % | 20.0 (8) |
| 70.4 (28) | Penalty Kill % | 85.0 (15) |
| 66.7 | Winning % When Scoring First | 100 |
| 100 | Winning % When Leading After 1 | 100 |
| 100 | Winning % When Leading After 2 | 100 |
| 50.2 (13) | Faceoffs % | 53.4 (3) |
| 11.6 (14) | PIM's Per Game Average | 14.3 (22) |
| NHL.com | | |
I have to make this quick. It's late. I hated the play of Roberto Luongo against the Oilers. I hated the play of the defence in front of him. I still think this team needs to get back to it's roots defensively. Yeah, Lou should play like Khabibulin did and make those key monster saves on occasion but he needs help from his friends too. Are they friends? Christ they sure tend to play differently in front of Cory Schneider...mostly. But then, Cory Schneider looks ON IT more than Luongo at this point as well, plus the coach sends a message by pulling the #1 netminder and the team responds.
I am still of the thinking that you go with your main horse, and that is Luongo at this point. I would start Roberto in this one, but we shall see what Allen Veenyo thinks soon enough. This was to be Schneider's start, but he ended up playing most of the minutes against Edmonton. I expect a completely different effort against the Blues than what we saw against the Oilers. So I leave you with this: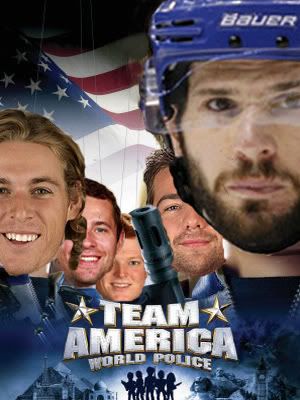 F*CK YEAH!
And a poll:
Poll
What is your confidence level in Roberto Luongo?
70%
A slow start. He will get his shit together (95 votes)

22%
He's screwed. His confidence is shot. (30 votes)

3%
Trade Him NOW!!! (5 votes)

3%
Luongold!!! (5 votes)