I am going to make a compilation for of any video or links in relation to the festivities that were Markus Naslund Night. The team laid a defensive egg but managed a solid comeback only to lose in OT as Ryan Kesler sat in the box for high sticking. Unfortunate. I'll get more into that in the Canucks-Oilers game preview that will go up in a few hours.
For now...let's focus on Mr. Naslund and his many friends. It was great to see Dan Cloutier, Brendan Morrison, Todd Bertuzzi, Mattias Ohlund, Trevor Linden and even the Steamer celebrate the festivities. The crowd gave several tremendous ovations and it really was spine-tingling, especially the "Nazzy!" chants. Naslund, typically, maintained a calm and collected demeanor throughout.
OK, here come the goods....
The only 3 Canucks players with retired jerseys pose for the media pre game:
Did you miss the ceremony? Shame! Well here are the festivities:
Naslund talks to the media post game:
The video of Naslund highlights shown during the ceremony:
Naslund and Morrison watched the game together and CBC had an entertaining interview with them. Scott Oake asked Morrison basically if Naslund gave him the same dirty looks as Bertuzzi did when he didn't pass them the puck. Naslund laughed sheepishly and Morrison didn't deny it. I can remember BMO talking about that when he left Vancouver a couple years ago.
IMAGES
I posted these in the comments sections in the game posts but wanted to share them with you here as well.
Stan Smyl and Trevor Linden are introduced to a thunderous applause, naturally:
Canucks players watch the Naslund tribute:
Todd Bertuzzi saluted Naslund in his own special way, which was the funniest part of the night. He then donned a Nazzy jersey:
Canucks brass gave Markus and his wife Lotta tickets to tennis matches at the Summer Olympics and then presented him with a beautiful oil painting done by a local artist: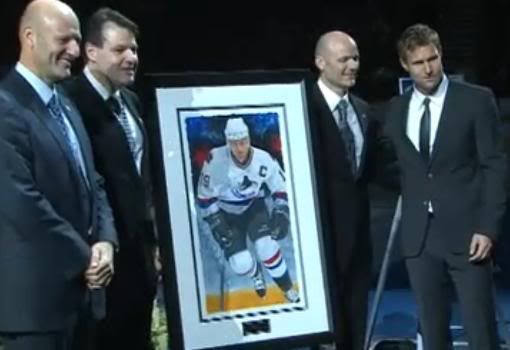 Naslund made it very clear that he was grateful that Mattias Ohlund could be there for the ceremony.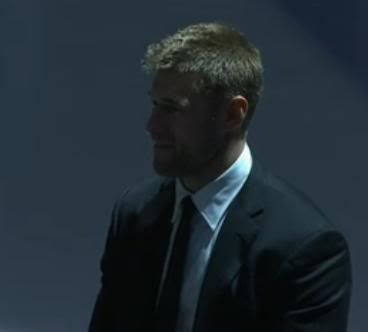 Markus' very proud parents: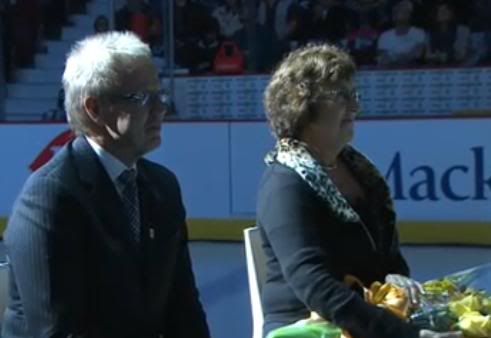 The Canucks players present Markus with solid tickets to a Wimbledon event. It was now very clear by this point that the Naslunds love them some tennis.
This image says it all, doesn't it?
LINKS
-Awesome photo gallery of the festivities from Canucks.com.
-Naslund humbled by emotional jersey retirement ceremony - Vancouver Sun
-Did you miss Ed Jovanovski talking about Naslund? Well, no more!
QUOTED